Joined

Jul 23, 2009
Messages

48,227
Reaction score

18,923
Location
Website
Can others edit my Photos

Photos OK to edit
I JUST went into the kitchen and tested my "Pocket Light Meter" application for iPhone against my Minolta AutoMeter IIIf. At ISO 400 and at 2 seconds, I used the Minolta to meter the front of the refrigerator in reflected light mode...Reading? f/22.2 at 2 seconds, ISO 400.
Then I used
Pocket Light Meter
,on my iPhone, from the same distance....Reading? f/22.0 at 2 seconds at ISO 400. Notice that the overhead flourescent fixture rendered a slightly greenish color? The built-in screen capture "HOLD" of Pocket Light Meter did not give a really great white balance. But what's cool is you can HOLD a picture of the screen, with the metering area bracket in red, and save that for reference by screen-capping with the Home button and the shutoff button on iPhone.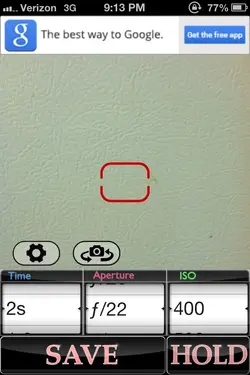 Here's the first comparison I did, and the screen capture showing the EXACT area I metered with Pocket Light Meter. I hung the Minolta upside down from the kitchen wall clock. As you can see, pretty close. Keep in min d, in this test, the Miolta is reading f/16 INCIDENT, and Pocket Light Meter is suggesting f/18 for an 18% gray rendering of a mostly black area. Look at the white dome. It's rendered nicely, and looks white. I would set the camera to f/18 MINUS 1.5 full f/stops to make the meter look black when shooting B&W negative material with normal development if I had spot-metered the black meter face.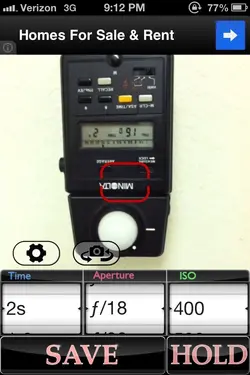 Pocket Light Meter allows the user to compile a library of meter readouts AND at the same time, the camera function allows the user to capture the scenes/locations/lighting that was there at the time of the metering, complete with the red metering area indicated right on each screen capture.
Last edited: