Joined

Apr 5, 2012
Messages

33
Reaction score

1
Can others edit my Photos

Photos OK to edit
Hello, I posted a few weeks back about wanting advice about newborn photography. I want to take some nice photos of my nephew for my sister (who is due in a couple weeks!) as a gift. I am very much a beginner and have a Sony alpha-200. I also have an external flash but did not use it for these photos because the natural light was pretty bright. My friend let me take a few pics of her new baby as a mini practice session and I thought I would look for input.
First I will say what my own critique is. I set the camera to aperture priority and set it to F/5 because I wanted the background to blur a little. I think I did not do a great job of focusing. Also I would not put such bright colors near the baby's face in the future because I think it draws away from the subject. I like the second photo more than the first photo because I think the skin tone looks warmer...I did find that minute to minute the light quality changed because of clouds passing by, etc, so I am not sure yet how to control for that (maybe for my sister I will hang a white sheet in the window). I will have much more time with my sister's baby because I will be visiting for 5 days, whereas with this baby I was only visiting my friend for an hour or two. I would have liked to get some photos of her sleeping but she was just too awake at the time.
I would appreciate any input anyone has for how to do a better job because this was a practice session for me. Thanks!
F/5, 1/25, ISO 400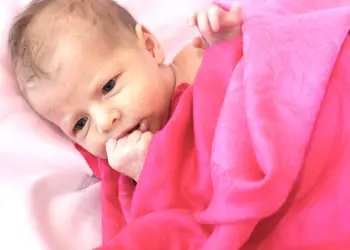 F/5.6, 1/13, ISO 400