Joined

May 9, 2013
Messages

2,976
Reaction score

588
Location
Can others edit my Photos

Photos OK to edit
The angle that various sizes of sensors can record changes with their size
Right, which is what I and everybody else in the world is talking about when they discuss field of view or the angle of a lens without specifically saying otherwise. THIS one
is
what it means when you say "angle of view" or "field of view" or anything like that just by itself.
Angle of view - Wikipedia, the free encyclopedia
<-- "...[angle]
that is imaged by the camera
"
Understanding Your Camera: Focal Length, Field of View and Angle of View Defined : Martin Pot - Photography Blog
<-- "angle that is projected onto the camera's sensor"
Understanding Camera Lenses
<-- notice the calculator requires a crop format to be specified and changes depending on it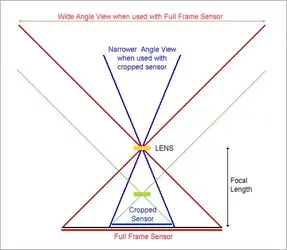 but the angle that the lens projects does not change.
Nobody ever cares or talks about this except for a few people shooting large format view cameras who want to know if a certain lens will cover film on an unintended film size. And even then they don't use the term angle, because they know better than to confuse with the common term that everybody would interpret it to mean (the above one). They talk about film sizes covered instead.
A 300mm lens had the same FOV no matter what camera you put it on.
Also no. Nobody ever ever defines or talks about FOV in terms of the total image circle possible.
FOV refers only to the angle as
seen by the sensor
. i.e. it relates to the first thing you said i quoted above, not the entire image circle.
Field of view - Wikipedia, the free encyclopedia
<--see first paragraph
AbelCine - Field of View Calculator
<--notice that it changes when you change sensor size
Digital Camera Sensor Sizes: How it Influences Your Photography
<--do a page search for field of view