Joined

Dec 8, 2005
Messages

313
Reaction score

9
Location
Website
Can others edit my Photos

Photos NOT OK to edit
Hi everyone, I've been neglecting my poor camera for the last 6 weeks or so as I have been very busy at work. However I have just returned from a week on the Greek island of Kefalonia. I took the D200 along as well as the 12-24 and 28-70 with full intention of going photo crazy but as it tunred out, I neded up doing a lot more relaxing/eating/drinking than I had planned and so in the end I didn't even fill up one memory card! However I thought I'd share some of my more prefered pics from the few I took:
First some flags that caught my eye blowing about in the wind, I liked all the blue tones (a theme that seems to be hard to get away from on a sunny Greek island lol). This was just on the water front of a lovely little fishing village we drove to for a fresh fish lunch.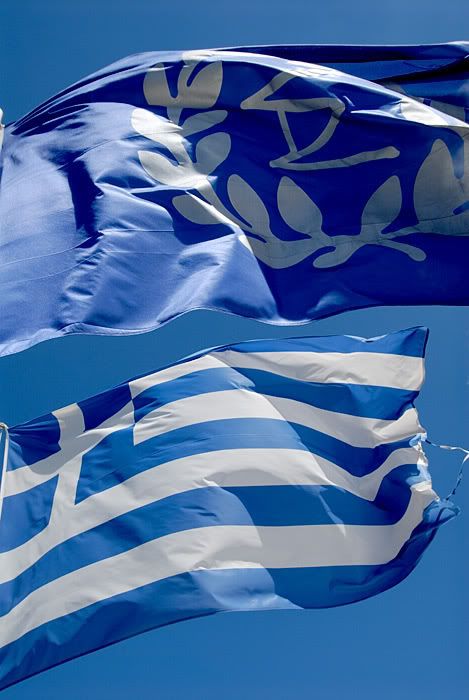 That evening as we drove back to the hotel the sun was going down behind the mountains. I pulled over to get a shot as I noticed a windfarm on the hill. I'd have loved to have my 200-400 with me so I could have got a lot closer but I had to make do with the 28-70..
One of the days we decided to head up to the north of the island (we were staying at the very southern point in a town called Skala) but got side tracked when we saw signs for Myrtos Beach which is the most photographed beach on the island. You have to drive down to it as its in a cove on the otherside of a tall mountina/cliff face. As we got closer and closer we started to see the STUNNING blue sea ahead of us, eventually we got a clear view so jumped out to get some pics...
As we got closer I started picking out areas of the beach:
This being my favourite shot of the beach...
I also noticed this boat right out to sea. I loved the way it surrounded by so many shades of blue from the sea and sky. Its a shame the low res shot doesn't show the boat very well but I'm going to get this one printed up big as the full res shot looks lovely.
Another evening driving back through the mountains and as the sun set it was lighting up the rock with a lovely orange/red cast and I loved the way hat stood out against the clear blue of the sky, with the moon helping to balance the frame nicely...
Another moon at sunset. Tis one taken from our hotel balcony. This wa taken in the exact opposite direction of the setting sun so the sky above the sea was gradually turning orange as it got darker and darker.
Finally a few other random shots, this of a boat that had moored up in a little cove that I noticed from the road as we were driving around.
Another small town viewed from a mountain road.
And lastly, my friend looking out over the sea from our balcony, a picture that I have promised to send him just to give him the 'back from holiday blues' even more than he already has lol
So there you go, thats a brief experience of my holiday. I can highly recommend Kefalonia to anyone who wants a nice realxing holiday. Its got some stunning views (a car is a must though to get the most from the island), hot weather and good food. You can't ask for more. I'd have maybe liked to take more pictures looking back now but at the same time it was good to just chill out and relax after a busy summer at work. I hope you enjoyed looking...