Joined

Sep 19, 2006
Messages

476
Reaction score

0
Location
Can others edit my Photos

Photos NOT OK to edit
Hai Everyone,
Last weekend I planned a trip to the Zoo Park nearby. I enjoyed a lot in the company of natures wonderful creations, though I had some problems shooting them. I don't have an tele lens, but only 18-55 Nikkor lens. And here in Hyderabad Zoo, most of the animals were locked in an enclosure with a mesh. The animals were usually far from my focus range. Anyhow, some did give me a chance to take their photos which I am posting here. Please tell me what aspects I should improve regarding shooting animals (No harm meant - I mean Animal Photography ). Thank you in advance.
#1.
My Favourite. One of the oldest found here. Sorry forgot to get her age. Pity that I was unable to get her into more zoom. But she's the most laziest I have ever seen. Never bothered to walk towards me and give a pose.
#2.
Quite opposite the above one. Been very active and gave more than a dozen poses. Unfortunately, she is not aware of the fact that I don't own an VR lens.
#3.
I just love this baby. Too meek character. I love her eyes the most.
#4.
Sorry to spoil the good photo. But I was not yet an expert in outfocussing the mesh. (Though on and on I overcame the difficulty). Excuse me for that. Still thought that you shall like to see the picture.
#5.
The royal couple, though not in a great mood indeed, might be a family problem. I would have given anything at that moment for a tele lens. They are very far away from us.
#6.
Felt like giving company. Waddling in the cool water and Staring at the gazers and Starring the photographs.
#7.
Thinking of how to scare me off. But I didn't budge. Gave her a few scares, moved her a bit here and there and got the pose.
#8.
Atlast, I did got the secret of how to outfocus the mesh. I focused this celebrity right, though you can observe the mesh if you look keenly. Now I shall spend more time mastering this concept.
#9.
Posted this just for Corinna. Thought you'd like the Green all the way (mixed with white).
#10.
She gave me all the time to adjust myself without flying away. Thanks to her.
#11.
I was unable to compose it right. But still would like to share it.
#12.
Hornbills always amuses me a lot. They are awesome. Got two varieties.
#13.
This one gets my "Best model Award". Hope you agree with me.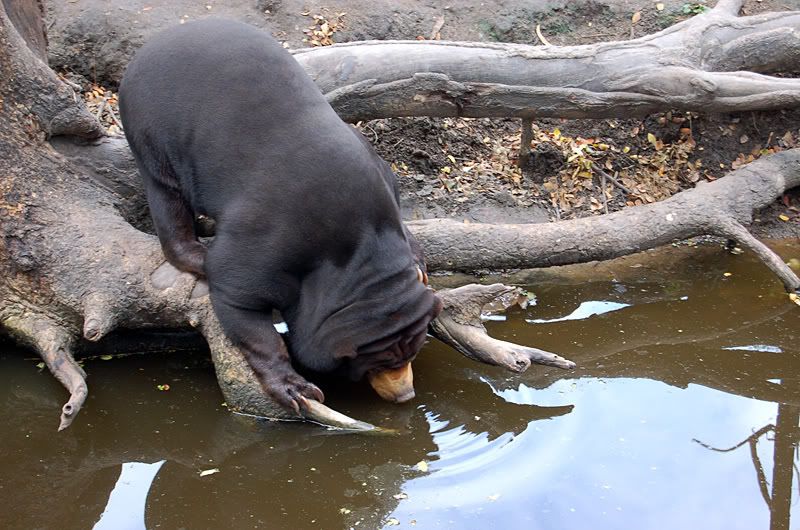 #14.
This is my first macro without using the default settings (program mode and manual focus). Please don't forget to give an opinion on this.
#15 .
Two more lazy heads. Got them in a sleepy mood.
#16.
This is a shot my friend took. His most favourite in the reptile species. We waited for more than 1 hour for a change of pose. But believe me, it's sleeping like a log. My friend would be very glad to know any comments on this shoot.
Over all, I enjoyed the visit very much. It's lively to be in the company of these adorable animals. Though it hurt me many times to see such innocent creatures to be kept in an enclosure. But that's how nature goes. Man still thinks he's superior.