Joined

Aug 8, 2012
Messages

359
Reaction score

24
Location
Can others edit my Photos

Photos OK to edit
Now that I am getting some more camera time, I figured today would be a great day to challenge myself. The sky was uncooperative at best. Light was being it's typical fickle self. Overall I like the results. Fair warning at least 1 is going to be considered overdone, I am already aware of that. Since I was going for about a two mile walk, I left my tripod in the car. All brackets are shot hand held.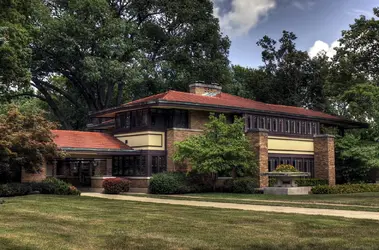 House designed by Frank Lloyd Wright. Shot from the drivers seat of my car. Tried to keep this one subdued.
Not the worlds most interesting composition, but I figured capturing the dynamic range would be good practice. I used a CPL to help with the reflections on the water. From the angle I was at, I could get rid of the foreground reflections or the ones at about the midpoint. I opted for the foreground. I guess I could have shot 1 bracket, adjusted the CPL and shot again, but didn't honestly think of that till I was typing this
This is the one I might catch flack for. It isn't pretty by any standard. It might be a touch over done, but I think given the context of the shot, over done fits.