No longer a newbie, moving up!
Joined

Feb 8, 2011
Messages

469
Reaction score

105
Location
Can others edit my Photos

Photos OK to edit
(For an introduction, see my companion "Grandfather's old barn - exterior shots" thread.)
These pictures have generally had a fair amount of post-processing. I typically had to adjust the high and low levels (and sometimes the mid-points) to overcome my exposure problems. Like I said in the other thread, I'm still trying to get consistent with my exposure levels - and this place adds the challenge of having outside light coming in through all the holes into an unlighted interior.
1) These are the milking/feeding stalls in the milking room I commented on in the other thread. The cows would stick their heads into these slots, and the board you see on your left would slide upright to lock the cows in place. They could lower their heads to get to their feed, but they couldn't back out until Grandpa was ready for them to go.
2) This is a little detail shot showing some of how the barn was assembled. That big horizontal beam is just sitting on the plate on the end of the upright piece. The main frame is all pieces carved to fit into each other (see also the next picture), with maybe a wooden peg inserted in a hole to hold them together. You can also see why we don't generally allow people into the barn - I'm actually surprised it's still standing every time I go home.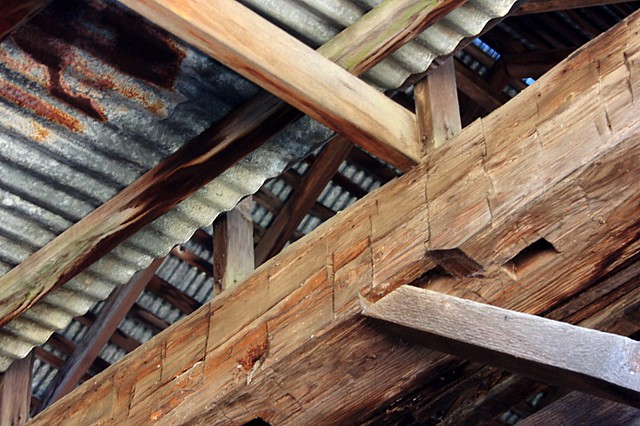 3) Another construction detail. Notice all the axe-marks from where the trimmed the tree down to the right size. You can also see that they weren't afraid of using nails - they just used them where they might actually do some good.
4) A general interior view. What's left of the hay-loft's floor can just be seen in the lower right. When it was full, bales could be tossed over the side into the cattle stalls. I've had to do a lot of adjustment in post to get this to look this good - and I've cropped out the major openings to the right. I don't know how this would have worked with HDR, but give me a break - I'm just getting used to taking a decent picture in the first place.