Joined

Oct 19, 2020
Messages

1
Reaction score

0
Can others edit my Photos

Photos NOT OK to edit
Hi,
In cleaning a Tamron SP 52B 90mm f2.5 I found that somehow I've broken off a post that appears to engage a cam that translates the wide range of rotation of the aperture dial to a smaller range of motion for the aperture.
The hole is indicated in the attached image.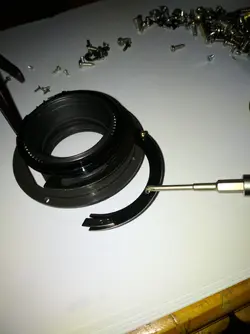 The cam can be seen in the part above it. This rotates with the aperture dial. As it rotates the cam brings in the arm closer or further away, thus limiting the aperture.
Does anyone have a photo of a 52B that has been disassembled so I can get an idea of what I need to replace it with?. Even a old service manual drawing would do.
I was thinking about replacing the post with a screw. Just need to find the right size.
Thanks
Phil