Joined

May 9, 2013
Messages

2,976
Reaction score

588
Location
Can others edit my Photos

Photos OK to edit
Note: I consider this a draft. I am not a sensor engineer or anything. I just have done a lot of research. So I could be wrong about some things here. Feel free to comment if so so I can update it.
The thing I see most often misunderstood when people give reviews of camera bodies, or are looking to make purchasing decisions, are the specifications of the sensor. In this post, I will describe the different types of numbers that describe a sensor, and what each of them means in practical terms for your photography, to help you make an informed decision about what camera type is best for you.
The three main numbers are:
1)
Overall Sensor Size
, often referred to as "crop factor." This is described as a single number usually (the length of one side), because sensors tend to share the same aspect ratio of 4:3, so you don't need to talk about both X and Y dimensions.
2)
Number of Pixels
3)
Pixel "Pitch,"
which for our purposes can be thought of as essentially just the size of one pixel in actual physical space.
These three numbers are not independent of one another. If you know two of these numbers, you can calculate the third:
(Pixel Pitch) = (Sensor Size along one side) / (Number of Pixels along the same side)
Here are a few made up examples, using an imaginary square sensor shape: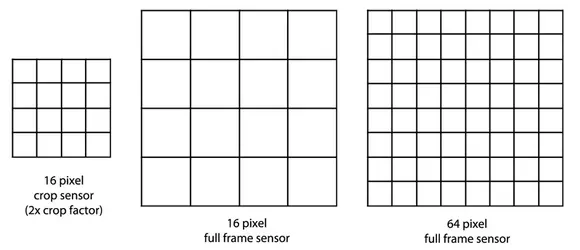 On the left is a 2x crop factor, 16 pixel sensor. Size = let's just say 1", pixels = 16, pixel pitch = 1/4"
In the middle is a full frame, 16 pixel sensor. Size = 2", pixels = 16, pixel pitch = 1/2"
On the left is a full frame, 64 pixel sensor. Size = 2", pixels = 64, pixel pitch = 1/4"
When you go to buy a camera, usually they advertise #1 and #2. Number of pixels is the megapixel count, and sensor size is advertised by various terms and letter codes and numbers like so:
"Large format" = a sensor (or piece of film) 4" x 5" or larger
"Medium format" = a sensor (or piece of film) larger than standard 24mm x 36mm but smaller then 4" x 5"
"Full frame" or "35mm" = 24mm x 36mm, or something very very close to that.
"Crop sensor" = any of a large number of different sensor sizes smaller than 24mm x 36mm. Almost every company has a different size crop sensor, sometimes multiple different sizes. These are labeled by a "Crop factor" like 1.6 or 1.3. 1.6, for example, would mean that a full frame sensor is 60% larger along one side than the crop sensor, or 2.56x larger in area. Etc.
So what do each of these factors mean for your photography?
Sensor Size
The above diagram shows information relevant to sensor size alone as a variable. In this diagram and all others, I am using fake sensor sizes, and a square shape, just to be more generic and to not get bogged down in details about specific brands or anything like that. The "Crop sensor" I am using is an imaginary 2x crop factor sensor (1/2 total length of full frame along one side).
On the left, you see a crop sensor in a camera fitted with a lens specifically designed for a crop sensor (The equivalent of something like a Canon EF-S lens). Since crop sensors are physically smaller than full frame sensors, a lens made for crop sensors does not have to project as large of an image on the back of the camera. This leads us to our first practical difference between sensor sizes:
1) Lenses can be made for smaller sensors for less money and will weigh less than lenses compatible with full frame sensors (less glass!).
But there is also a drawback to such lenses, which is that they can't be used with a full frame sensor. This is because they don't project enough light to actually cover the sensor, so all your corners would be pitch black. And also because mirrors on crop cameras are smaller, so the lenses designed for them sometimes stick further back and would hit the mirrors of full frame cameras:
2) Lenses made for smaller sensors are incompatible with full frame cameras (so you'd have to buy new if you got a full frame camera), whereas lenses made for larger sensors usually are compatible with either sensor type.
Also, looking at the image on the right, it is clear to see that
3) Crop sensors will make the same lens appear to be a longer focal length (by a factor of the crop amount). So a 20mm lens would seem like a 40mm lens on a 2x crop sensor. It's not actually changing the optics, though. It's just a cropped subsection of the same optics. It will change what focal lengths are useful to you practically, though.
Note also the gradients I drew onto the lenses. As you move further from the center of almost any lens, the optical quality of the lens decreases. The edge of the projected image will be usually darker, blurrier, will have more color fringing and coma, etc. than the center of the projected image. This leads us to our 3rd practical difference:
4) If you use a full frame lens with a crop size sensor, your image will be sharper on the edges than if you use a lens matched to your sensor size (either), because you are only using the highest quality central portion of the glass, which has the fewest optical flaws. You pay for this, however, by shelling out money for (and carrying the weight of) glass that you're not actually using.
(The above is not true if you use a crop size lens with a crop sensor)
Finally, if you take a smaller sensor size, with a particular lens, the world will look more zoomed in. Let's say you compensate for this and walk further away from the subject in order to get the same field of view as with the larger sensor. Being further away from a subject leads to a larger depth of field (just like mountains on the horizon are always in focus together or not, even though they may be a mile separated from one another).
Alternatively, you could zoom out to compensate and achieve the same basic composition as the full frame / change focal length. This is a better way to match the composition, because it doesn't change your perspective, but still, this will ALSO increase depth of field, because wider lenses in general have broader depth of field.
Thus:
5) Effectively / in practical usage, a larger sensor will have shallower depth of field for the same composition, because you have to move the camera or change focal length to match composition, and both of these change DOF.
These are the main practical differences that result from sensor size ALONE. Sensor size also tends to correlate with the other aspects of a sensor (pitch and pixels), and thus indirectly is related to other practical differences, but we will get to those next. The above differences are the ones that necessarily result PURELY from the size of the sensor itself.
k9
Number of Pixels
Number of pixels has just one practical effect on your photography in and of itself:
6) The more pixels, the more you can blow up your print size relative to the distance a person views it from. And similarly, the more you can crop down your image after taking it and still have a usable, printable final product.
Fewer pixels means less of an ability to show an tiny line or an edge, and thus less sharpness at the same print size. Thus, all other things equal (which they usually aren't), more pixels = more ability to show sharpness and detail. This means you can blow up the same image larger. Or you can use a smaller sub-section of your image and blow that up to normal size (same concept). This has the effect of giving you more leeway in adjusting your composition in post processing, and it also allows your camera to act like it has a longer lens on it, because when you crop a portion of your image and zoom it larger, it is an approximation of having had a longer lens (provided that you still have enough sharpness to print the zoomed in section, which more pixels tend to provide).
Anything over 10-12 megapixels is going to be undetectably different to the human eye at regular print sizes, so more megapixels does NOT mean better sharpness or image quality if you do everything right and are not intending to try to get more reach out of your lens by cropping. What more megapixels do for you, again, has more to do with giving you the flexibility to change things more after you've taken the shot (cropping and zooming to simulate longer focal length, or blowing up huge prints and such).
Also note that the whole "crop and zoom" thing
will not work
if your lens is not sharp enough to resolve that extra detail. Having 30 billion pixels is useless if you have a soft lens that isn't actually delivering different light to each pixel.
Pixel Pitch
Again, remember that pixel pitch is mathematically entirely determined by (sensor length on one side) / (number of pixels per side), so none of these three things are completely independent of one another. But here, I will describe the practical effect that larger versus smaller pixel pitch has, if all other variables are held constant.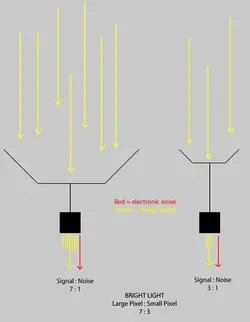 Here I drew a picture of two individual sensor units (a pixel would composite across several of these, in ways not worth explaining here), one from a sensor with large pixel pitch on the left, and one with a small pixel pitch on the right.
Note that
these do not necessarily correspond to full frame or crop size sensors!
It is possible to have small or large pixel pitch on either type of sensor. Usually, in the camera industry, full frames HAPPEN to have larger pixel pitches, but they don't technically HAVE to.
Anyway, the above image shows a situation with bright light. During the same exposure conditions and shutter speed, etc., the larger sensor might gather let's say 7 photons, and the smaller only 3. But both sensors generate about the same amount of noise from their electronic components and the process of converting from analog to digital (represented by a red line here). So the larger sensor got a signal to noise ratio o 7:1, while the smaller got a ratio of 3:1. The higher your signal to noise, the less noisy your final image will look. Basically, you expect some average number of "photons" of noise in any one sensor (in this case 1). But it may sometimes be 0 (darker than it should be), or 2 (brighter than it should be). These deviations are random and we don't know for sure when they happen. Thus leading to noise.
The larger sensor will have the more accurate color and lightness, because it is less "polluted" by random noise. A more overwhelming proportion of actual light makes the statistical impact of the noise smaller. Thus:
7) The larger the pixel pitch, the less noisy your images will be under the exact same exposure conditions.
So if you have a larger sensor size, in other words, you can crank up the ISO on your camera higher without suffering from noticeable noise. Higher ISO means you wait for fewer photons, and then just multiply what you got to amplify the signal to normal levels. But of course, you also amplify the noise! So having a higher signal:noise ratio means you can amplify further without suffering from as much noise. In even more direct practical terms:
7.5) (in other words,) At the same number of megapixels, a full frame camera would have about 2 stops more effective speed from ISO than a 2x crop factor camera
(2x crop @ same megapixels = 1/4 the sensor size, and thus 1/4th the signal to noise ratio and 4x more amplification pollution. 4x = 2 stops)
And finally,
8) Smaller pixel pitch sensors have better resolution than larger pixel pitch sensors, within the angle of view they cover, which means they get more out of the same telephoto lens.
This is because smaller pixel pitch crams more pixels of resolution into a smaller visual angle. An 18.1 megapixel 2x crop frame sensor has 18.1 megapixels of resolution in a narrow slice of the image circle, while an 18.1 megapixel full frame sensor would only have 1/4 as many pixels in that same angular slice of the image circle. So if you tried to crop and zoom just that portion of the full frame, you'd have a blurrier picture than the uncropped image from the smaller sensor.
Careful!
I cannot stress enough that although these 3 factors are USUALLY CORRELATED, they do not always HAVE to be. Take a look at that same image I posted earlier: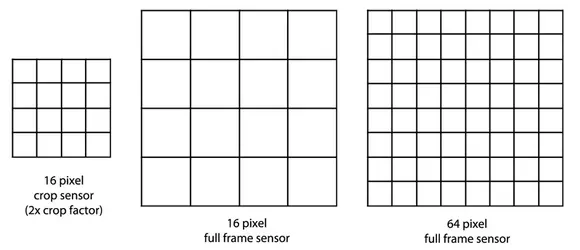 The sensor on the right is a full frame sensor, but it actually has the SAME pixel pitch as the crop sensor on the left.
In this (made up) situation, the full frame sensor on the right would not have any better ISO performance than the crop sensor on the left.
A zoomed up picture of a blank wall would look something like this, under similar ISO and exposure across the three sensors, and prior to any software de-noising: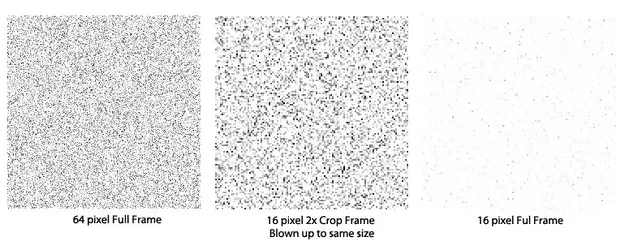 This is why, for example, Canon's flagship professional 1DX camera only has 18.1 megapixels. If it had 46 megapixels instead, then it would not actually end up with any better ISO performance than, say, an entry level crop sensor rebel T2i, because the pixel pitch would be identical. The grain would be smaller, yes, which might matter in some cases, but basically, just as bad of noise.
if it had 46 megapixels, it would be much better able to adjust composition after a shot or crop and zoom (giving you the same telephoto performance of the crop sensor without needing to actually put on a longer lens!). But I guess Canon decided that high end pros would have more use for ISO performance than for flexibility in post processing.
(Also, better ISO performance saves you money on telephoto lenses anyway, because you only need to buy an f/4 lens instead of an f/2 lens for the same quality, if your ISO performance is 2x better. So you aren't even really compromising telephoto ability with the fewer pixels, in a way.)
That's all folks! At least all I can think of. If I missed something that is not covered above or made a grave error, please let me know.
Last edited: