Joined

Jan 10, 2012
Messages

266
Reaction score

73
Location
Can others edit my Photos

Photos OK to edit
The semi-autonomous region of Trentino-Alto Adige is an oddity in Italy, conquered by the Romans in antiquity it passed to Germanic tribes and later the Austro-Hungarian Empire. It wasn't until the end of World War I that this region was annexed into Italy
. During that conflict the high alpine passes were fiercely fought over and to this day you can catch glimpses of crumbling Great War forts nestled between the crags.
If you were dropped into this region of northern Italy without an idea of where you were, you could be forgiven if you thought you were in Austria. The locals are just as likely to be speaking German and each town has two names, one Italian, one German. The cuisine is also shaped by this convergence in often wonderful ways. Wonderful northern Italy dishes paired with amazing Austrian bread is a beautiful combination. (Don't tell the Italians but I actually prefer Austrian bread).
It makes perfect sense that in a culturally unique region you would find a geographically unique group of peaks known as the Dolomites. Some rave of rolling Tuscan hills, others love the rugged coastline of Cinque Terre, these are all beautiful, but for me the Dolomites are Italy's geographical triumph. They are unique in all of Europe, giant slabs of grey rock jutting from green hills, some oblivious to the law of gravity. Nestled among the peaks are large alpine meadows (one the largest in Europe) as well as many fantastical formations.
So, you can imagine my anguish when the forecast called for cloud and rain. My wife and I almost changed our plans but a friend from Verona encouraged us to go. "There are never any bad days to see the Dolomites", he said. For the most part the forecast was correct so we spent a lot of time enjoying the small towns and local food with occasional overcast hikes, but before going to bed one night I saw the next morning's forecast was clear skies! So, at 4:15am I was off in my rented Fiat 500, winding my way up and up towards Sassolungo and the Val Gardena pass.
I don't have much experience with landscape photography. I'm more interested in portraits and photojournalism, so I just grabbed all the lenses I had brought on vacation and a tripod I had somehow wrestled into my check-in luggage. Thankfully equipment wise I was fairly well prepared, but after spending most of my Italian vacation roasting near the coast I wasn't prepared for how cold early morning in the Dolomites can be mid June. On the exposed hills around Sassolungo it was a windy 4C (39F). At the end of an hour and a half of photographing I was soaked, cold, and literally could not feel my toes.
Photography for me is just a creative hobby and I cherish my sleep, so getting up before dawn to stand on a cold, windy hill took some mental and physical discipline on my part. Was it worth it? Most definitely. Since learning about the Dolomites I had longed to photograph them and I had seen that through. That was reward enough for me. Thankfully the vision I had in my head was for the most part realized in the final photographs, so that's nice as well. I hope to return some day and have more early morning adventures in that beautiful area of the world. Till then, I hope you enjoy these few photos.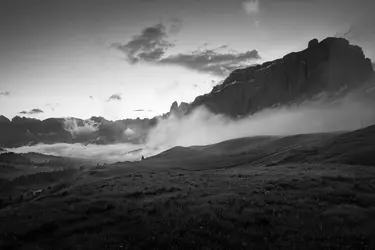 Around 5:00 AM, thirty minutes before dawn, the light was just starting to creep into the sky and the fog was scurrying up and over the ridge in front of me. A solitary fox crept along a ridge to my right.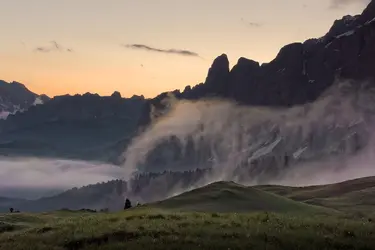 5:25 or so the sun is just about to rise over the peaks in the far distance and spill light onto the top of Sassolungo (off camera left). The fog still pools in the valleys, but in front of me it dances and peels off into nothing.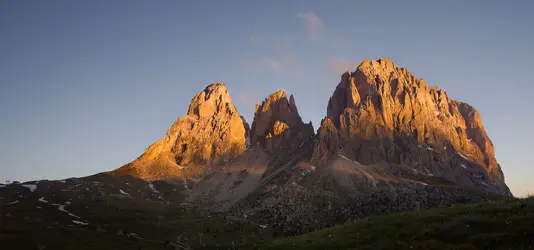 This is the main event. This is why I got up so early. The lands around Sassolungo are still in shadow but the sun is washing red light over the top peaks of the mountain. Some fog hiding behind the peaks turns pink in the morning light.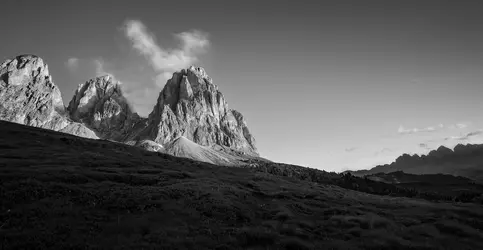 As the sun continues to rise the fog behind the peaks burns off. Sunlight creeps in through the deep valleys in the distance. At this point I've changed locations and ascended a large hill behind my previous position. It's very windy and cold up there.
This was the surprise photo of the trip. I was so intent on photographing sunrise on Sassolungo I almost missed the amazing view behind me. Piz Boè is lit up while off in the distance the glacier crowned Marmolada is wreathed in cloud and fog.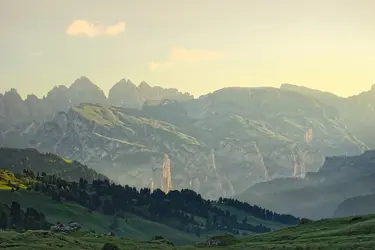 By now the sun is almost fully over the mountains and you can clearly see the amazing alpine meadows and other strange formations that ring Val Gardena.
At the end of the day storms were moving in from the south-east. I had given up on sunset shots and was enjoying a great meal at Chateau Gerard when this happened. It lasted about eight minutes but thankfully long enough for me to excuse myself, run to the car, and grab my camera. I had forgotten a key truth about landscape photography, stormy weather can make extraordinary images. I had wanted perfect weather but I am glad for the weather I got.
Last edited: