Joined

Aug 18, 2011
Messages

17,143
Reaction score

4,350
Can others edit my Photos

Photos NOT OK to edit
$600.00 plus shipping
I purchased this Underwater Camera system in May 2013... and have used it on two dive trips (about 20 dives total). It does a wonderful job! I have a lot of experience with underwater photography using a Nikonos 5 back in the 90's ... and have decided to upgrade to a full DSLR system. The DC-1400 is in perfect condition, and has been babied since I have owned it. The flash works beautifully, and the housing and O-ring are tight.
I am including several accessories with the system that I have purchased also:
A diffuser for the flash
Extra battery and charger
A special wieght made to corect for the positive bouyancy of the housing.
a brand new bag of Moisture Munchers (and a partial bag) (dessicant to keep the system totally dry inside)
All of the original gear that came with the system is included also:
including the canvas case that holds everything (not pictured.. I forgot!)
USB cable and charger
manuals
Onboard flash diffuser
Leather belt case for camera (for topside use)
Wrist strap
power adapters
Pictures taken with the camera can be seen at
Flickr: CGipson Photography's Photostream
. I have included one shot in the listing... of a Porcupine Fish from Puerto Vallarta, Mexico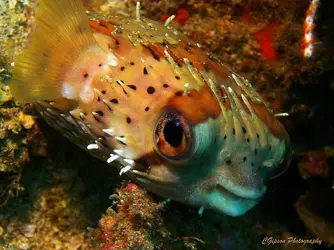 Manufacturers Page:
DC1400 Pro | Sealife Cameras