Sometimes you don't have the piece of kit you need, maybe it broke, you left it at home, or you're like me: Incredibly cheap, so you own nothing.
Here's some stuff I did this morning. This isn't a tutorial in how to use a pillowcase as a diffusor, although it shows that, it's meant to show you what you can do with the stuff you have on hand. Engineering, I have heard it said, it the art of making what you want out of what you've got. Be an engineer.
First of all, here's a little triptych of a still life I threw together. SOOC JPEG, uncropped, unedited. Resized, but nothing else. From left to right:
- un-diffused light, moderately harsh
- pillowcase used as diffusor (bump up flash 2 stops). Note spillover of light onto background, frame-right.
- pillowcase as before, with a hunk of cardboard as a "barn door" to contain some spillover.
Exposure's a bit.. ad hoc. So it goes.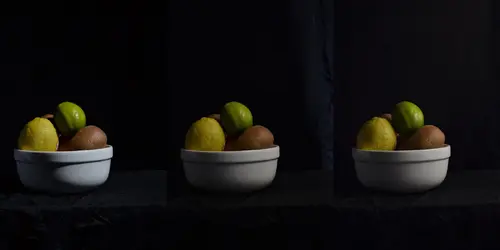 Here's the, uh, studio setup, let's call it. That's probably an overly ambitious name.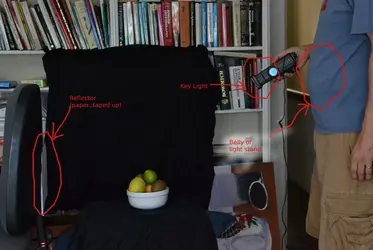 Here I am using the diffusor, and the barn door. This is a re-enactment, lighting placement is pretty approximate.

The pillowcase is not a softbox, it creates a wild mass of bouncing crazy light that spills all over the place. But it's manageable. If light goes where you don't want it, just stick something in the way to cast a shadow there instead. The closer to the light, the bigger the shadow. Barn doors, snoots, grids, all that stuff is just things in the way that replace light with shadow.
Here's a couple photos with snoots made out of rolled up newspaper and cardboard and tape. Left is my favorite snootlike object these days, which is a sort of flattened funnel shape, it casts a sort of smudgy stripe of light, like a sunbeam between the curtains. Right is just a regular old tube. SOOC JPEG, resized only, no edit.
And here are re-enactments of the uses:
Free your mind. Tape, newspaper, towels, pillowcase, bits of cardboard. Tape. Lots and lots of tape. Lots. Of. Tape.