Hello everyone! This past Saturday I went to my school's Middle East Ensemble performance and took a few pics I would like some help with. The performance was absolutely mesmerizing to say the least. What wasn't so great was taking pictures in very low light. I don't have much experience in low light situations with my camera so I wasn't exactly sure about what settings to use under situations where light is scarce. Most of the pics came out very noisy, dark and blurry. As much as I would like to buy a faster lens that is more ideal for a venue like our school's concert hall I simply can't at the moment as most of the money I have either goes towards school books or apt rent/bills. Plus, I would really like to be able take good sharp and focused images with what I have!! Here are a few of the better ones from that night. All were hand held and taken from the 2nd row from the stage. I was maybe a good 15 feet away from the performers though. Any tips on how to improve is appreciated!! Advice on settings or anything to help me would be wonderful.
All pics have been resized, cropped, and pp in Paint.NET (mostly noise reduction and brightness changes)
Shot with Nikon D40x 18-135mm
1. Manual: F/3.5, 1/50 sec, ISO 1600
Santur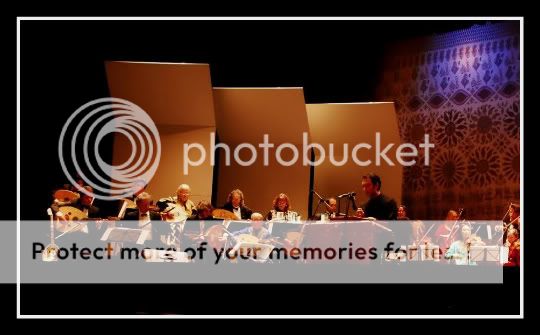 By the way this is Bahram Osqueezadeh at a performance a few years back at our school. He performed a similar piece on the Santur at Saturdays performance that was just amazing!! The man with glasses in the back left in this video is Dr. Scott Marcus, the director and founder of the ensemble.
2. Manual: F/4, 1/60 sec, ISO 1600
Cris Basimah
3. Manual: F/4, 1/60 sec, ISO 1600
Ensemble Dancers
4. Manual: F/3.8, 1/50 sec, ISO 1600
'Ud
5. Manual: F/4.5, 1/60 sec, ISO 1600
Khaliji
6. Manual: F/4.5, 1/60 sec, ISO 1600
7. Manual: F/4, 1/60 sec, ISO 1600
The ensemble will be performing again in March I think... hopefully by that time I will have a better understanding about how to set my camera for some nicely focused and sharp images.
Thanks for looking!
Last edited by a moderator: