I should probably first apologize for my noobness again, but I discovered something that is most likely well known but I decided to share it here anyway.
For a few years a while ago I was big in to black powder hunting and shooting. While straightening out the garage I came across my old Stoney Point PoleCat shooting stick, which is an ultra lightweight super stiff monopod I used to steady my aim with the black powder rifle. This is an ultra lightweight super stiff 10 oz. monopod that telescopes from 24" to 42" with a "V" grip on the top that can unscrew to expose a standard 1/4"-20 camera mounting stud . the soft rubber coated V-grip works perfect for a quick rest for the base of the camera lens or the back of my hand to hold the camera, providing a very stable monopod brace. These sell for $17-$30 everywhere, or you can spend more to get one with options for working on ice, snow, sand, et.al..
Don't overlook your local sporting goods store when shopping for support and optics accessories.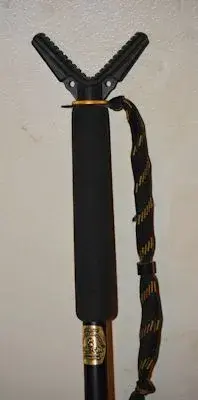 http://www.opticsplanet.com/stoney-...HIA_Q&ef_id=AwFPdbOB4XgAAIrP:20130615025923:s
Last edited: