Been spending a lot of time on here!
Joined

Jun 22, 2011
Messages

2,271
Reaction score

1,333
Location
Can others edit my Photos

Photos OK to edit
A couple of weeks ago I took my portable studio to a venue in London to shoot more belly dancers. The room I was given (the best of a bad set of choices) was blue and had a monster skylight with bright sun pouring through, so bright that my 2 backdrop lights only worked intermittently and my settings were all screwed as the light changed with passing clouds. Image one is SOOC... normally this would have been one for the bin but I saw potential and I thought the client would like it as, pose and expression wise, it was one of the best of the batch.
1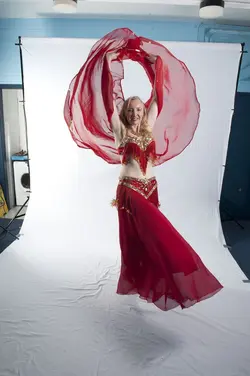 So I went to work, put it through Lightroom 3, PSE8 and Portrait Professional 11 to come out with image 2:
2
I was quite pleased with the result, though it may qualify more as graphic art than a photograph!

Suggestions, comments and criticism to help me improve are always welcome.