No longer a newbie, moving up!
Joined

Jun 2, 2012
Messages

266
Reaction score

29
Location
Website
Can others edit my Photos

Photos OK to edit
So I figured it's time for me to start really investing in some more equipment. I'm looking at paying off my current credit card purchases and buying more about christmas time, but for the time being, here's everything I have currently. For anyone who's followed me at all. June 1, 2013 marked my first anniversary of having a DSLR. What should I get next? What should I sell, keep, buy, etc?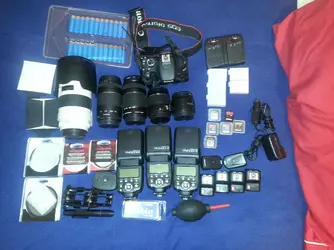 Body(s)
Canon Rebel T3i
Lenses
Canon 18-55mm f/3.5-5.6
Canon 50mm f/1.8
Canon 55-250mm f/4-5.6
Canon 75-300mm f/4-5.6
Canon 70-200mm f/2.8L IS II USM
Flashes
2xYongnuo yn-560exII
Yongnuo yn-565ex
Accessories
7 x Canon T3i Battery
Meike T3i Battery Grip
Meike Dual Battery Charger
Canon Battery Charger
Canon Wireless Shutter Release
4 Wireless Receivers
2 Wireless Transmitters
7 SD Cards - (1x32gb, 3x16gb, 2x8gb)
2 x UV Filters (58mm,77mm)
2 x Circular Polarizer (58mm,77mm)
1 x Diffusion Filter (58mm)
Set of CTO Gels
Lens Pen
Blower
Dynex 60" Tripod
2 x Miniature flash softbox
3 x Impact air cushioned light stand
2 x Cowboy studio 24" softbox
2 x impact convertible umbrella
Last edited: