Joined

Jan 10, 2012
Messages

266
Reaction score

73
Location
Can others edit my Photos

Photos OK to edit
The father in law had his 60th birthday this weekend so the wife's side of the family got together at rented a house high in the mountains of North Carolina, near Chimney Rock. I was *really* tempted to pull out the Mamiya 645 I just was given but the thought of lugging it up 500+ steps made me opt for the Nex instead and I wanted to give the Sigma 30mm a proper test run. So, here are a few photos from the day of the hike. I did some significant post processing on these and since I've been shooting film I threw some grain into the mix as well. Any tips or critiques you want to add, feel free!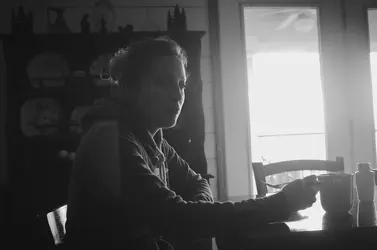 Photography is not as appreciated in the morning.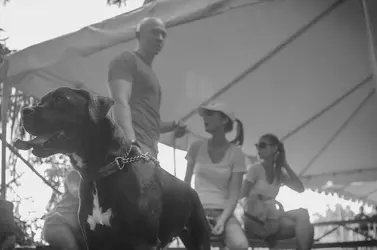 Hank was born ready. This dog has no off switch. We had to force feed him water to keep him hydrated while hiking. He was too excited to bother himself.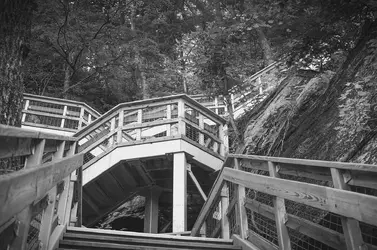 A sampling of the 500+ stairs. There's an elevator that takes you to the top (so American) but dogs are not allowed so I got to hike up with Hank.
Lake Lure and the mountains beyond.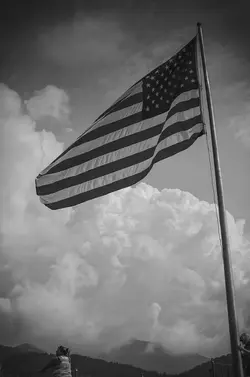 Of course there is a giant American flag at the top.
View of Chimney Rock and Lake Lure from a lookout point known as the Opera Box.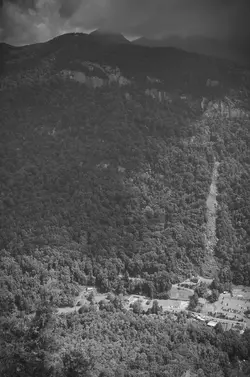 As the day wore on rain clouds started to form across the valley.
I could not have asked for a more interesting sky to photography.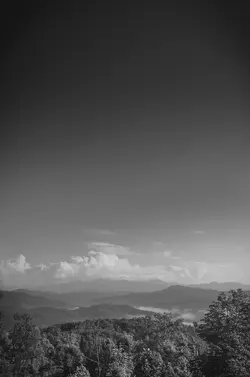 Back at the house after a hard rain the mist was lying in the valley.