I have had a devil of a time with this. First off let me admit i am an absolute neophyte with digital photography. This particular photo gave me fits as I could not get the focus on the blooms themselves, but on multitudinous attempts was able to get every green leaf in the garden *except* the pink blooms in perfect focus. i did mount the camera on a tripod and tried putting the focus square in the viewfinder on various parts of the pink blooms, but no matter what i did the camera seemed to strongly prefer green bits as the focus object. Is this the phenomenon I see referred to as front/back focus?
I am shooting with a Nikon D5200, and did not use manual focus, which would have worked but I really want to master the tools available in the camera. Any instruction you can provide would be most greatly appreciated. I am more interested in technical mechanics at this point, but I will note any artistic criticism also.
Also, what size should photo's be for attaching to posts like this? Pixels? DPI? I really am a digital noob and appreciate your wisdom.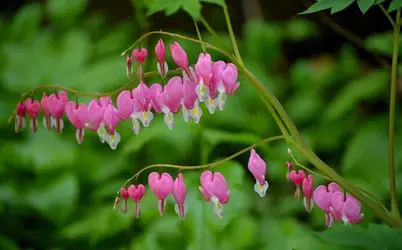 BTW, this plant was a volunteer found in my rose garden, an 8x8' inset between the porch and the garage at the front of the house. I did not plant this, and it was lucky it bloomed before it was weeded. Angle and lighting options were very limited, as working deep in a tangle of rosebushes can be hazardous to one's epidermis and I don't know if the D5200 is blood proof.
Last edited: