In memoriam
Supporting Member
Joined

Oct 4, 2011
Messages

10,726
Reaction score

5,468
Website
Can others edit my Photos

Photos OK to edit
I'm celebrating today because:
--I successfully completed the first two days of the biggest photo shoot I've ever done,
--This is my 4,000th post, AND
--It's my Birthday.
So, this morning I had a Birthday Breakfast with my sister (she's going out of town to a conference, plus I have Vacation Bible School all week, so we changed our normal Bday lunch or dinner plans to breakfast).
The place where we ate has some of the best breakfast food on the planet, and AMAZING muffins!! AND....for my birthday, they gave me FOUR FREE muffins!!!!!!
You can't really tell from the picture, but these things are HUGE!! If I put one of the muffins in my hand, the muffin bottom is about as big around as the width of my hand, and the top of the muffin IS wider than my hand.
And did I mention they're DELICIOUS??
I have Chocolate Mousse, Banana Walnut Streusel, Carrot Raisin Nut, and another one I can't really identify and haven't tried yet (front left). So grab yourself a muffin and help me celebrate!! (of course, it'll take more than these four, but don't worry, there's plenty for all of you!
)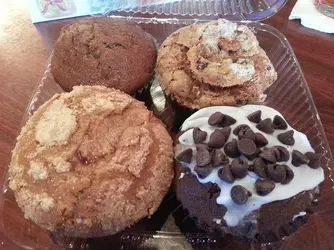 Oh, and if you wanna get me something for my birthday...I'd like a D800...or a 70-200 f/2.8 lens...or you can just give me a "like."