Joined

Oct 30, 2015
Messages

21
Reaction score

6
Location
Website
Can others edit my Photos

Photos OK to edit
So this photo was taken with my old P&S camera, which can't do any narrow DoF goodness. I'm waiting on delivery of my first "proper" camera, so I should be able to play around with the real deal soon enough!
But, I liked this picture.. at least, I liked part of it - namely the subject.
A
very
casual looking Monk, smoking and playing with his smart phone.
The stuff going on in the far background is very distracting though, and couldn't really be cropped away. So, I took to Photoshop to sort it out, and among other things, create some fake DoF. This took a lot of masking and messing around, but, my understanding & experience of real DoF being fairly limited, I'm not really sure how convincing it looks.
So my question, is what I've done obvious?
Original:
(after a first pass in Lightroom actually, I don't have the straight-out-the-camera JPG on this PC atm.)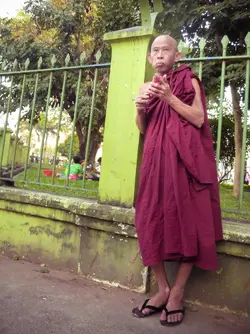 Post:
DoF, colour correction, straightening, and lots of local adjustments, with the intention of bringing out his hands and face as the main focus.
I also played around with cropping at the waist, but the image gets pretty low res then, and you lose his pose, taking away from the casual-ness. And the grungyness of the lower half of the image, which I kinda like too.
Any feedback (on any aspect of the image) very welcome!
P.S. wasn't sure if this belongs better in the PP forum or the general critique forums, feel free to move it if I chose wrong.
Last edited: