No longer a newbie, moving up!
Joined

Sep 9, 2004
Messages

226
Reaction score

90
Location
Can others edit my Photos

Photos OK to edit
Ok, so this past weekend I was offered a last minute commission to shoot some stills (and video) of a multimedia installation that was part of a local art festival. I won't go into too many details about the exhibition itself except to say that I was essentially doing this as a favor for a friend...although I would add that the friend is question happens to be one of my former art teachers (including raster/Photoshop).
The exhibition itself was indoors and consisted basically of 7 screens with 5 projectors of some conceptual animation work that was set to some equally conceptual orchestration (each display had it's own set of speakers, with the visual set to the audio). Needless to say, this was easily the trickiest lighting situation I've ever had to deal with! LOL! Not only were these projections, the light from each projection often affected the other screens and the light was constantly changing and shifting, both in color and intensity...along with the music, it actually had a rather hypnotic effect (particularly after 6 hours of staring thru a camera lens at it, LOL).
Because this was a very low light situation, I did have the ISO on my Nikon D90 fairly cranked...and as a result, I am having to do a fair bit of clean up and noise reduction in post (using Camera RAW and Photoshop). Likewise, because of this lighting situation where the colors and intensity were constantly changing, I'm doing more than a fair amount of processing in regards to fill light, exposure, saturation, levels, yadda, yadda, yadda., as well as some final sharpening. I can't really provide many specific details of HOW I shot these as I used a variety of approaches ranging from full manual to full auto.
I have shown a few preliminary samples to the client and so far he seems happy with them, however as the client also happens to be a friend as well as a college art teacher, I do very much want to give him my very best effort as well. As such, I could use a few extra sets of eyes here.
Comments and suggestions are very much encouraged, however I would ask; please be detailed! I have no ego to bruise here...if you like it or if you hate it, that's fine, however please tell me WHY you like it or WHY you hate it. I don't really mind if someone thinks my work sucks, however saying that alone tells me very little that can't be attributed to personal taste. I am firmly of the mind that honest, if not brutal feedback is the singular best way for an artist of any medium to improve!
Further...in this specific case, as a professional courtesy I would ask that you please critique ONLY the PHOTOGRAPHY on it's own and not the actual art seen in the projections! The work seen on the displays is NOT mine and I had no part in the installation itself...that credit will be given exclusively to the artists who created it once the processing of the images is complete.
1.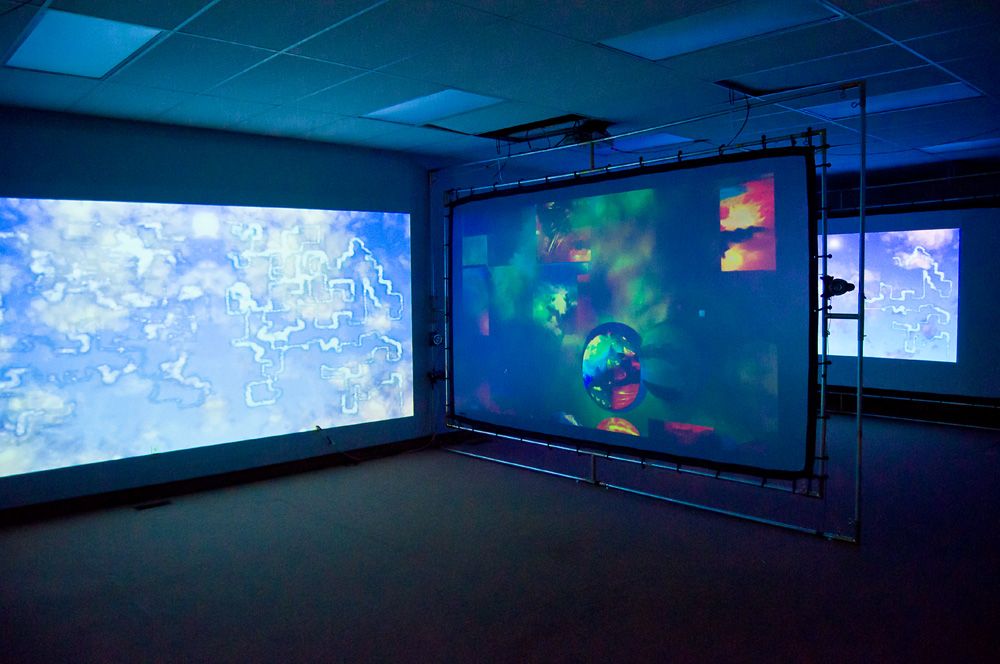 2.
3.
4.
Thanks!