It's been dry here, just like many other places in North America. However, recently we've had some rains pass through and while not enough to replenish the months of missing rainfall, did bring some relief to the landscape. Late summer, plus rainfall, usually means the start of mushroom season. Now mushrooms are very fickle creatures – too dry or too wet, too cold or too warm, and they refuse to fruit. Even places known to have them, often go a year or more without them showing up. So going to look for wild mushrooms, is an optimist's walk. You're hopeful that you will find some, but you never know. And if you find them, there's the matter of timing. They don't last long, and are food for many insects and animals. So if you are lucky, you get to them before most of the other things that want them too.
I go into the woods partly because my 90-year old mother has been a life-long gatherer and forager for mushrooms. But at her age, going for a walk in the woods is a serious undertaking, and her ability to clamber over rocks and fallen trees is definitely declining. She jokes with me that each trip out may be her last, but with each year that passes, those jokes are getting closer to reality. That is both the blessing and the curse of living – sooner or later, we all pass on, and what is left behind are skills taught to others, insights and memories.
So these walks in the woods are treasured moments. We tell ourselves that we are really going for the walk, to see the trees and birds and to enjoy the fresh feeling of moist and earthy aromas rising from the leafy and moss-covered mulch of the forest floor. But in our hearts, we are hoping to get lucky and find that perfect specimen hiding from us under a leaf or fern.
A friend of ours who lives in the forest not too far from us, alerted us to the arrival of the mushrooms. She doesn't know them well, so couldn't tell us what kind they were, or their state. We arranged to come by and explore with her. I took my camera along because I really hate coming home empty-handed.
The woods near our friend's place are mixed, with new growth and old, with areas almost inpenetrable with fallen wood, to thick leaf-covered ground, to areas with heavy moss or fern cover. A place with variety and some challenge. And so, we went.
I saw that many of the undergrowth leaves were showing signs of stress, probably due to the dryness and the heat that we experiences the last few months.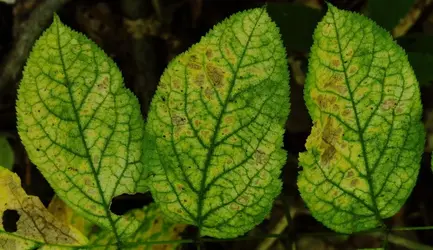 We found a number of places where the Crown Tipped Coral (Clavicorona pyxidata) grew. Very delicate, and lasts only a few days before it start to brown and die. It was dark where I found it, and I didn't have flash modifiers with me to soften the light, so I decided to shoot handheld in natural light. Yes, there is a bit of handshake, and the DOF is thin. It is what it is. The fungus itself is considered edible, with a peppery taste, but since we don't have experience with it, we'll just enjoy the appearance.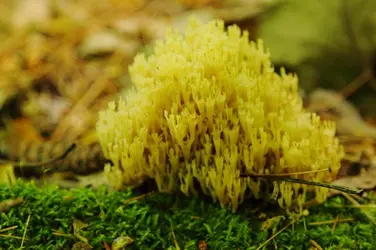 The next one caught my attention because it was neatly split in two by a falling branch. It appears to be a Platterful Mushroom (Tricholomopsis platyphyla), a species which is listed as "edible with caution". Thanks, I'll pass.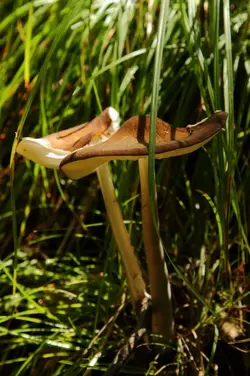 While puff-balls are generally non-toxic, (but also with little flavour), this collection found growing on a rotting stump appear to be Pigskin Poison Puffballs (Scleroderma citrinum) – good to look at, but not recommended for eating.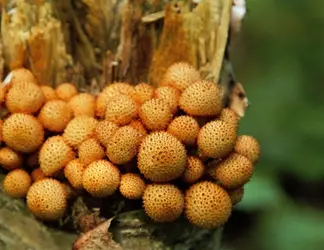 Also pleasing to the eye, but inedible, are the Turkey Tail mushrooms (Trametes versicolor). They are delicate in appearance, but woody in texture, and found in clumps on fallen wood.
Mosses and lichens are the carpet of choice when you are furnishing your forest. Soft underfoot, and a pleasure for the eyes.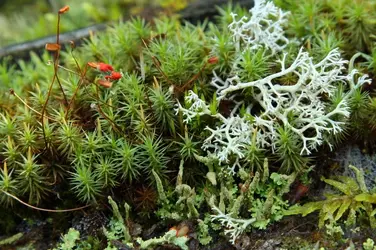 Red or brilliant orange is a colour that few mushrooms have, but this tiny specimen seems to just glow among the leafy debris. It appears to be a form of Red or Orange Mycena, but my identification book does not seem to describe this particular specimen very well, so I am not sure about its identification. Had to use flash (on-camera because I didn't bring the gear for off-camera usage) because it was 'way too dark to do it any other way.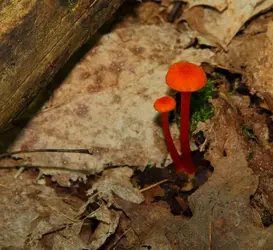 After several hours of walking around, we ended up finding a few that are edible, but it was clear that we were too early – we'll just have to come back later, maybe in 2-3 weeks. In the meantime, it was time to go back, somewhat tired, but happy to be in a place of beauty. That's my Mom with our friend in front of her.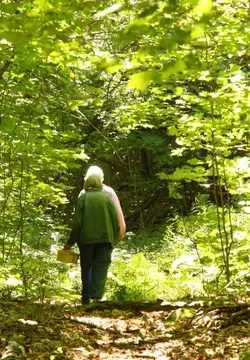 So, live life and enjoy all the moments. You may get lucky and have a long and healthy life, or you may have a different script to live out. But while we are here, let us count our blessings. For we are alive.

(and apologies to those who find long text and streams of pictures hard to get through. I'd give you the five minutes back, if I could. For others, comments welcome, as always).
Last edited: