Hey all!
I took this shot a little while ago. What I did was turn on all 4 of my T5 HO bulbs on my aquarium flooding it with tons of warm light. Then, I used the on-camera pop up flash but framed this little guy in the very bottom of the shot, then cropped him out (because obviously the pop up flash caused a glare). I also pressed the lens (using a filter for protection) up against the aquarium glass to try and reduce the amount of distortion and imperfection shooting through thick large aquarium glass was going to cause.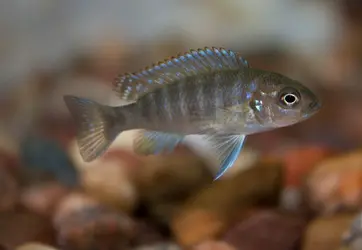 Cynotilapia afra, juvenile
Now, there are some issues I can definitely see, including the VERY shallow Depth of Field causing his tail fin and anal fin to be soft. This was shot with a Canon T1i and an 18-55 IS lens. I'll have to look up the parameters, as this is an older shot. But I would like to recreate this shot, only sharper. Any thoughts or suggestions? He's bigger now, and colored up, so I think he would make an excellent shot. He's also fairly photogenic. Most get very curious about the camera and begin moving and wriggling like crazy and are difficult to shoot. He could care less so he's easy to nab mosying along.
Thoughts? Suggestions? Shooting this aquarium is really challenging. I'm shooting through another piece of glass, and I always use a UV filter to prevent scratching the lens (rather scratch a UV filter), and the subjects move quickly, hide, are small, and you can only shoot a few times before they all get scared and hide!