Joined

Dec 15, 2016
Messages

2
Reaction score

1
Can others edit my Photos

Photos OK to edit
Hey everyone, I am new here, just now registered to ask this question.
I bought my first proper DSLR 6 months back, and have been using it mainly for video, though I have done some photography, mostly just to practice techniques and familiarize myself with the camera.
I wouldn't call myself a beginner per se, but as I am pretty much self-taught (internet taught, that is) I have a good understanding of most technical aspects, but still lack the experience and know-how of being educated or trained by veterans.
So, the reason I write: Last night was a beautiful full-moon, clear sky night, with freezing temperatures and absolutely no wind. Enchanting to say the least. So I went out with my camera and a tripod to try out some long exposure night photography. I fooled around for some time, wanting to catch the mood of this silent December night. This first picture was taken at:
ISO 200 - 18mm - f/8.0 - 15.0 sec
No post treatment, jpeg directly exported from the RAW in Lightroom.
I tried several times with different apertures and shutterspeeds, but I couldn't get the moon to look like... well, the moon. It would always be a supershiny, bright star with huge lens flares coming off of it. Is the solution just to take several images with different exposures and combine them in post, or am I missing something completely? I wanted the stars to come out as well, to pop in the middle of the deep, dark void of space, but I just can't get the effect I wanted for this picture.
Any advice, including any on the picture composition and ideas for post, is appreciated.
Next up, I was walking in a park and tried to capture an image with a moonlit but dark tree in the foreground, a streetlight lighting up the middleground, and the black, starry sky in the background.
The first picture I caught, I loved, but then noticed that the focus was off. I refocused on the middle-ground, really liking the contrast of the artificial light in between the dark tree and the dark sky, but all of a sudden, I had unbearable lens-flare and a sort of haze or fog, ruining the shots contrast and sharpness. I tried many times, but I just could not get the same result as my first try. Both were taken at:
ISO 200 - 20mm - f/5.6 - 30.0 sec
No post treatment, jpg directly exported from the RAW in Lightroom.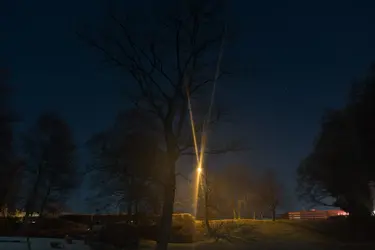 The only difference in the shots is the focusing. Now, I do admit that I may have accidentally breathed over the camera during the latter 30 second exposure, But as I realized that, I was careful not to do it again, but it changed nothing for the following 5 basically identical shots.
What is the cause of the sudden lens flare? Is it because of the change of focus or am I missing something else completely.
Any and all feedback is appreciated.