Joined

Apr 18, 2011
Messages

88
Reaction score

8
Location
Can others edit my Photos

Photos NOT OK to edit
I bought a Canham MQC 5x7 outfit from ebay as it included the 5x7 to 4x5 reducing back I have been looking for. As I do not need two 5x7 MQCs I am selling the newer of the two. It is in very good condition, not mint, anything that has seen some use is rarely mint, but this is very nice condition and fully operational. It is complete with the Canham focusing screen with built in Fresnel also comes with screen protector.
I will supply one Genuine Canham Lensboard (Copal 1) to get the new owner started with the camera.
There is also a very good condition Bag Bellows to fit and a Genuine Canham to Linhof Technika adapter also available either as accessories or as a complete outfit.
This was imported from the US into the UK and all VAT and Duty has been paid at a cost of £183 on top of the final ebay price and shipping so purchase within the EU will not incur any further costs. I am willing to post worldwide but buyer will cover all shipping costs and PayPal fees if required.
As I am only looking to recoup the money I have laid out minus the value of the 4x5 back so am looking for £675 ($1050) (new $3170) for the Camera, £140 ($225) (new $400) for the Bag Bellows and £70 ($110) (new $161) for the Canham Adapter, the accessories will only be available separately after the camera has been sold and if they are not required by the purchaser of the Camera.
I am willing to sell all the items together as an Outfit for the sum of £825 ($1250) which is less the amount I paid for my Canham MQC 5x7 Camera alone and this will give the new owner a great 5x7 Camera outfit at a very much reduced rate. I will also include a box of 7x Technika Style lensboards, 3x Copal 3, 2x Copal 1 & 2x Copal 0 as well as I full box and 1 part used box of 5x7 Shanghai Film along with some older wooden filmholders (users) to get you started (I would suggest the filmholders are not a viable addition to overseas purchaser as they will take the weight of the package up by a considerable margin).
All prices are plus shipping and paypal fees if required, collection from Plymouth is not an issue if required.
Advertised elsewhere.
I have been over every aspect of this camera and except for 3 blemishes (marked in pink) there is only normal use marks. Everything works as it should and it and the accessories will give many years of service.
Basic Frame:
Frame with standard bellows at full extension (24 inches):
Camera at more normal extension:
Standard bellows at Minimum Extension: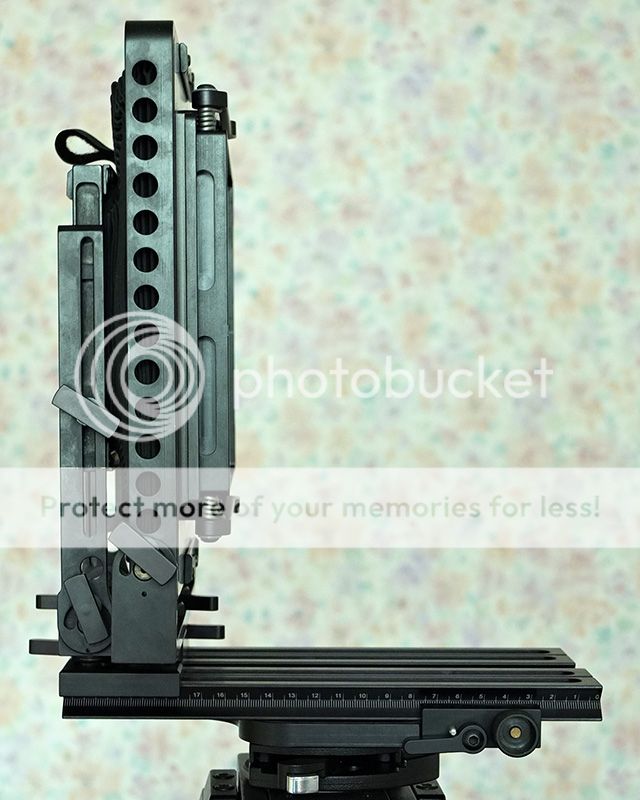 Rear of Camera showing Ground Glass:
Front of Camera with included Canham Board:
Front of Camera with Genuine Canham - Linhof Technika Adapter fitted:
Technika Style Lensboard fitted into Canham Adapter:
Base of Camera showing defects in pink:
Bottom Side of Rear Standard showing ding in the Aluminium (circa 4mm) only cosmetic has no bearing on function:
Rear of camera showing included Ground Glass Protector:
Camera with Wide Bag Bellows fitted:
I also have a Canham 6x17cm Motorised Roll Film Back available for sale in very good condition apart from marks on the mating face it is excellent.
This fits Canham and Walker 5x7 Cameras and I believe can be adapted to fit other models of 5x7 cameras.
The back is in absolutely fantastic condition with just a few slide marks on the mating face of the back. This also comes with its provided sync lead which when plugged into a sync port will automatically wind on the film to the next frame.
I am looking for £575 net to me (which is less than I paid for it and is well over a £400 saving on what Mike Walker is asking for a New One) (shipping and PayPal fees if required are in addition).
Mating face of motorised back showing marks on face.
If a purchaser wishes to buy all the items available in this thread then I will accept an all in price of £1350 (net to me).
Last edited: