Been spending a lot of time on here!
Joined

Jul 14, 2009
Messages

2,389
Reaction score

949
Location
Can others edit my Photos

Photos OK to edit
After seeing all this Wildlife photography I decided to give it a try.
Sine I live out in the "country" now I decided to just head out in my back yard, roughly 20 acres wooded.
I walked down the street about a mile to start at the rear of the property and work my way forward, flanking maneuver.
After about 15 minutes in the woods, walking at snails pace. I had my first spotting. A squirrel. I got super excited and went to get the shot but he scurried off and out of sight. Dang.
I walked another 5 minutes and saw a little shed, so I started walking towards it. And just then a Deer popped his head up and took off like a bat outa hell. DANG!
So I started tracking this deer, broken limps, prints in the ground. Watching every step making sure I don't step on anything crunchy.
After about another 20 minutes I was starting to lose hope so I decided to stand still and just look around. After looking around for a few minutes I heard a 'sneeze' like sound. Roughly 50 yards away through some branches there was the deer looking right at me. Two sneezes, I heard a second sneeze coming from the distance. There are now two deer!
My camera was at my hip, this deer has a razor sharp stare right at me. I never moved so slow in my life, barely moving I reach for my camera and slowly raise it to my face. My camera never felt so heavy. The deer started raising its hoofs and slamming them into the ground.
I was able to grab one shot before the snap of my shutter roared throughout the calmness of the wild like a tree snapping after a lightning strike.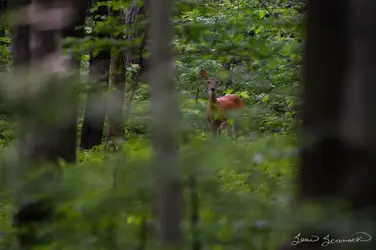 My heart is literally now racing. Three deer darting into the greenness of the 'forest' now. Like any adrenaline junkie, I started after them again, this time at a faster pace but watching every single baby step making sure to not make any noise or give any sign of my presence.
After 10 minutes of moving 20 yards, I felt each heart beat and every breath I took. Sweat began slowly dripping from my neck. I reach the next clearing and slowly make the turn, and to my surprise both deer are standing there feeding about 50 yards away.
I waited until their heads were done to make another step. Each step felt like it'd be the last as they would dart off. I was able to get about 25-30 yards away before the one spotted me. Ears up, eyes pin needled, sharp as a whip.
Here is where I made my ultimate mistake, that reminds me I am not a Wildlife Photographer, and honestly a complete newb when it comes to nature photography.
I was ecstatic that I was able to compose this beauty of a shot. Two deer, looking dead at me. Within 30 yards, one slightly in front of the other. Beautify scenery.
And wham, wham, the shutter snaps close, and snaps close again. The deer, without hesitation dart off jumping 4 feet in the air as if a bullet just grazed through their lungs.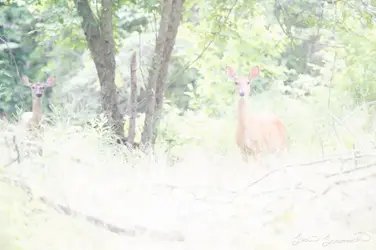 I never reset my exposure going from the woods to the clearing. Didn't once think about checking to see where my exposure was. My heart was racing, I was watching each and every step. I failed to check the single most important thing. Exposure.
I usually I do not share my fails, but I decided to share because the only way you can learn is from mistakes.
Now, I did shoot in Raw, so I was able to pull back some details, but this photo is completely blown out and I'm disappointed in myself for making such a stupid mistake.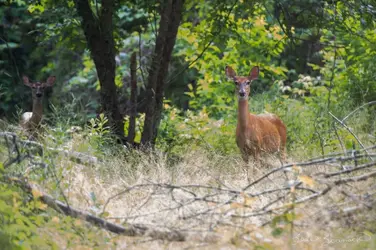 What did I learn from this experience?
Deer are extreme skittish animals and it takes extreme patience and sneakiness to get even within 50 yards of them.
DSLR's have a built in exposure meter for a reason, use it. Right before you snap that shutter, glance your eye to the right just to make sure your within a couple stops of what it thinks is right. Of course it will not always be right, but its often pretty close.
Thank you for reading my experience
The end!
Sean Scarmack