Been spending a lot of time on here!
Joined

Mar 29, 2016
Messages

13,191
Reaction score

6,764
Can others edit my Photos

Photos NOT OK to edit
I'm still learning so if others all ready know this then I apologize, this is for the dummies like me that don't. Hopefully this will help some newbe's save some time. This has bugged me forever, that when I import into LR the image "is not" what I saw in my camera. I've heard all the explanations, as to why a Raw Image displays differently in different software, but being the anal person that I am I kept looking for a solution anyhow. I couldn't believe that I was spending all that time trying to get it right in camera, only have to redo it again in a 3rd party software. Well finally after pouring through everything I could find to read on LR I found this interesting little tidbit.
All camera manufacturers' Raw files include (in addition to the metadata) a JPEG with manufacture specific information on the settings, corrections, etc., used to process that Raw file into a JPEG. When you import into LR the default is to take whatever information LR wants from that JPEG to develop according to Adobe Standard. All the remaining information gets pitched. Which is why the bright detail shots I was seeing in camera were coming out flat and less detailed in LR. Yes all the data was still in the Raw image that could be manipulated to get a "mostly" the same image, but I resented having to spend the time.
Finally I found the solution. Open LR, go to the Develop Module. On the left side about the middle is a tab labeled Preset.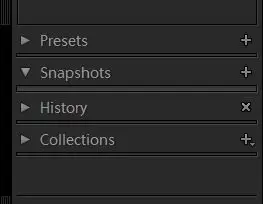 click on the plus sign. It will pull up a new window for a preset. Check or uncheck the items you need, including lens correction for the picture mode your camera is set to use (IE: Bright, Natural, Landscape, Potrait, etc). Then name the preset so you'll know which one you've saved. (IE: Pentax Landscape) and click on create.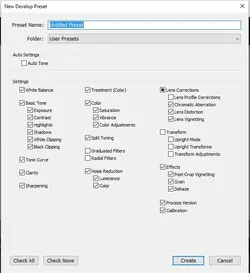 Now go to LR >Import on the right hand side near the top is a tap Apply During Import click on it then on Develop Settings. It will give you a list of settings with USER PRESETS at the bottom, scroll down to hover over that and another window will open with your custom setting. Click on it then Import. Your preview in LR should now be really close to your what you saw in your camera.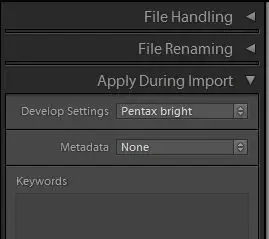 When you open the photo in Develop toward the bottom on the right you'll see Camera Calibration
You'll see your camera profile (mine is Camera Bright). You can still toggle back and forth between Adobe and your profile by clicking on the up/down arrows beside the name. When you do you'll see how much difference there really is. I haven't added it to a batch script yet, but I'm sure you can.