Joined

Jul 29, 2013
Messages

2
Reaction score

0
Location
Can others edit my Photos

Photos NOT OK to edit
So, I'm new to this forum but I thought I would give it a try. I operate a graphic design business which inadvertently became a photography business, and which is now transforming into a graphic design and photography business JUST for horse related businesses.
First off, I have no idea how that happened. What the heck?
Secondly, my company has made a name for itself up here in upstate NY, but people are consistently telling us our prices are too low. I understand this, however, I am terrible with pricing and I have no concept of how to hit the happy medium between too low and too high.
My business consists of driving to local (or not) horse shows, standing in the arena taking pictures of every competitor in the various classes for the entire course of the show, and then offering prints and CDs thereafter. We also set up with our computers and TVs so that exhibitors can scroll through their photos and get a feel for what we have taken. They can order prints fulfilled at the show for an extra fee ($5 per print at this point), or they can order online through our galleries. They can also order CDs which take on average about 3 weeks to fulfill due to the volume of photos we take and the fact that we both work part time jobs as well.
We also offer edits on any photos for an additional $15 per photo (i.e. the "ears forward" option).
Currently we are priced at: $75 for a CD of all the pictures we took at the show of a single horse or a single competitor (SH/SC), $40 for a CD of up to 3 classes from the show SH/SC, $10 to add an additional class (usually about 2 extra photos) to that CD, and for our week long show we adjusted the prices so that the full show CD was $100 and $75 only covered up to 3 days of showing. For prints, we charge $35 for an 11x14, $25 for an 8x10, $20 for 2 5x7s since they can go on the same 8.5x11" sheet of paper, and $15 for 3 4x6s (we rarely sell these).
Obviously at this point we are not making enough--we ARE making money, but we are putting in far too many hours for it to be worthwhile. Our cameras and equipment have paid for themselves several times over at this point, however, we would like to upgrade at some point, and we need to up our prices to get that extra income. My concern is that, particularly with the next show we are going to, the indoor arena is one of THE worst we've ever shot in, and the pictures are going to look horrible, to be blunt. HOWEVER, people still want them, and they buy them anyway. I just have a hard time charging more than $25 for a photo that looks like this:
as opposed to our outdoor photography: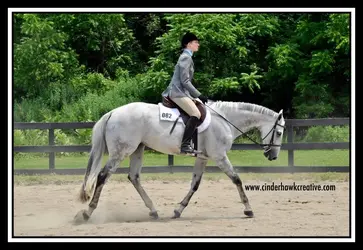 .
One of the most commonly received comments we get from customers is, "Wow, we can actually afford to buy photos this year!" Suggestions?