Been spending a lot of time on here!
Joined

Jan 27, 2011
Messages

4,789
Reaction score

1,985
Location
Website
Can others edit my Photos

Photos NOT OK to edit
Does anyone have any good resources or tips for compositing... fire?

The other day my husband texted me...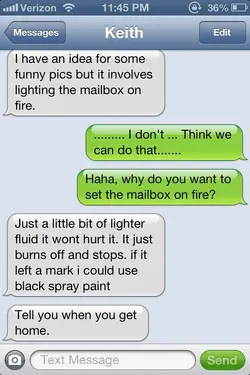 When I got home I kept protesting the idea of setting ANYTHING in our yard on fire.
He assured me that his days as a child, apparently being a pyro and setting plenty of sh*t on fire, has proved that he can do just that without burning down........ anything.
I, quite frankly, don't believe him.
HOWEVER...
I am kind of interesting in doing a fun shoot with him. I just... don't... want to... you know... attract cops... or burn our house down... that kind of thing. :lmao:
So does anyone have any good resources for compositing fire and what not? The thing that immediately comes to mind is how the light from a fire would affect the way the light played off his face and what not, but photographing him without an actual fire present, would obviously not give that result... so that's something I'd have to think about while putting this together in PS........
Seems like it might be challenging, but I'm up for playing around with it.
Any tips/links/resources appreciated :sillysmi: