Official Vendor
Supporting Vendor
Joined

Nov 4, 2009
Messages

1,850
Reaction score

7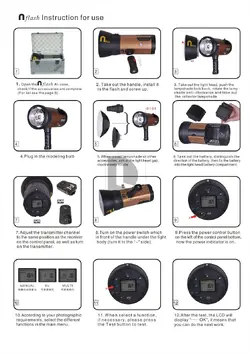 Photographers are distressed by the outdoor uncontrolled light when taking photos outside. Take an imagination, photographers need to hold a flash on the light stand with no power cable which disturd them, or make them feel press with this flash. The wireless
680A stuido flash lighting
which is petite that it is just a light head, users don't need to take a heavy power pack with them for outdoor photography. In addition, there isn't any cables surround in the flash, so it is really convenient. Small, light weight and durable flash light which is affordable and easy to operate and fast refresh rates, this flash sleek and stylish exterior.
Features:
Small, light weight and durable;
Affordable and easy to operate;
Fast refresh rates;
Sleek and stylish exterior
NEW wireless/remote N-Flash

A powerful, professional studio flash that goes anywhere​
* no power cords
* no cables
* no tethering
Specially designed for light-weight, mobile, wireless lighting
• Built for hand-held or mobile use (no power or camera connection necessary)
• Li-ion light-weight battery (quick-change for extended use)
• Speedy charging and recycle times
• High flash count per battery charge
• Provides also extremely high-speed multiple flashes.
• Built-in remote triggering
• Built-in studio modeling lamp
• Attaches to most popular professional light modifiers, softboxes, diffusors, etc..
• Travels nicely in its own aluminum case
• Several power models from which to choose
Last edited: