Joined

Nov 7, 2010
Messages

83
Reaction score

6
Location
Website
Can others edit my Photos

Photos OK to edit
Hi All - I have a job coming up that got a little shaken up since it was originally planned.
The shoot was supposed to be in a hospital room with mostly window light and I was just going to bounce a few speed lights off the ceiling for fill.
Unfortunately the client wasn't able to secure a hospital location so now they're building a set and we'll be shooting in a large studio space. 34'X 43' to be exact. With a 20' ceiling. So I'm looking to recreate that clean, bright, flat(ish) hospital look.
This is a shoot I did a while back and I'm looking to replicate this lighting. There was a large window directly cam right, on speed light in the right corner (you can kinda see the bloom) and another speed light cam left. Both pointed at the ceiling.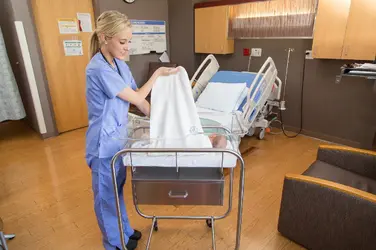 The slightly trickier part is that I may need to use constant light instead of strobes. (There will be babies and it's easier for them.) I'm still waiting to hear if they're building a false ceiling, which would make things potentially a little easier.
In either lighting case, constant or strobe, I'm thinking of bouncing from overhead with main light sources in an attempt to create a large "window". This is my first time lighting a set like this from scratch so I'm really just looking for any advice. I've probably left out some details so please let me know if more info is needed. Thanks in advance!!