Joined

Mar 17, 2013
Messages

6
Reaction score

0
Location
Can others edit my Photos

Photos OK to edit
First things first, I got a shiny new Canon Rebel T3 for Christmas and I've been tinkering with it since then and after lurking for a bit here on this forum, I'm ready to finally ready to post a few shots here critique.
Now, earlier today I finally decided to get off my duff and take a few pictures. I had a few spots in mind, so here are a few of the best.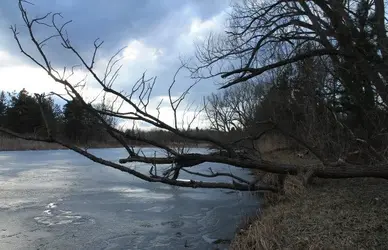 So this is the first one I took. I was trying to capture the fallen branch as it interested me as well as include the ice with the sky. As far as achieving this, I personally think I did fine for my skill level and experience. The trees and grass on the right are distracting, but I believe the overall shape and orientation of the branch itself leads away from them, bringing the eye back where I want it.
As far as settings and stats:
Taken in bright sunlight with a Canon EOS Rebel T3 and an EFS 18-55mm lens. (No tri-pod, though I did crouch a bit, if that counts for anything.)
Shutter Speed: 1/80
f/8
ISO - 100
I think I took this one using manual focus
Mode: Manual
Picture Style - Landscape
White Balance - Daylight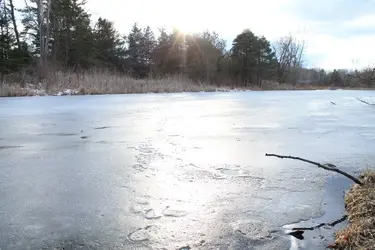 Here I was trying to get a cool view of the ice and patterns in it from animals walking on it and such. As for catching this, I think I could certainly have done better. The sun reflecting off the ice ruins a lot of the detail.
Stats:
Again taken in very direct sunlight with the same camera and lens, and again no tripod, but more crouching.
f/8
Shutter speed: 1/125
ISO - 200
Auto-focus
Mode: Manual
Picture Style - Landscape
White Balance - Daylight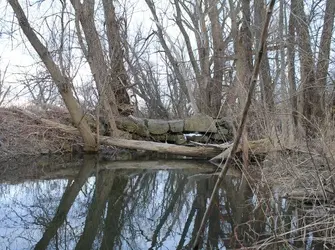 I had to trek through what felt like acres to get this one. (It was really like 20 feet, but hey...) I was simply trying to get a nice view of the bridge and if I say so myself, I think this is my favorite one. Though the bridge is rather small compared to the rest of the stuff in the picture. Despite that, I think the trees on each side and the water below help to lead into the bridge, which draws focus as it is a whole different texture and facing a different direction along with the fallen tree in front of it.
Stats:
Taken in a more shady area, beneath all the trees with the Rebel T3 and 18-55 mm lens. Again, just crouching.
f/4.5
Shutter speed: 1/80
ISO - 200
Auto-focus
Mode: Manual
Picture Style - Landscape
White Balance - Daylight
Finally in this one I was trying to experiment with a longer exposure to get the blurred smooth water affect. That being said, I think in that specifically I did all right. The water IS blurred. however, It is a tad brighter than i would have liked, as were most of the photos I tried to take here. That is something I'd like to work a bit more on in the future. Also, there is a ton of stuff between the camera and the actual stream. On a practical note this is simply because there was no way for me to get any closer, however, it still irks me a bit and I find it distracting, as the actual water affect is very small and limited. I guess overall I would call this image cluttered.
Stats:
Taken in the rather shady area with the same Canon T3 and 18-55mm lens, however this time I used the tri-pod.
f/18
Shutter speed: 2 seconds
ISO - 200
Auto-focus
Mode: Manual
Picture Style - Landscape
White Balance - Daylight
Well, that's it. Again, this is my first ever Critique thread (hopefully the first of many) so ANY help, critique, or advice is more than welcome. Specifically though, I am worried about composition. I have heard that word thrown around and I wanna know where I stand. I tried to slow these shots down and put a bit more thought into them than a random snapshot. How did I do in that regard?
I hope it's not to obvious, but for this I did try to follow the "How to structure your posts to get critiques on your work" thread basically to the letter.
I suppose it is also a point to mention that none of these photos have been edited at all in post as I am still tinkering around and learning the basics of that process.
Thank you again for any help.
Later.